KING'S CUSTOMIZED INJECTION MOLDING SOLUTION.


30 Years Experience, In House Development, Customized machinery.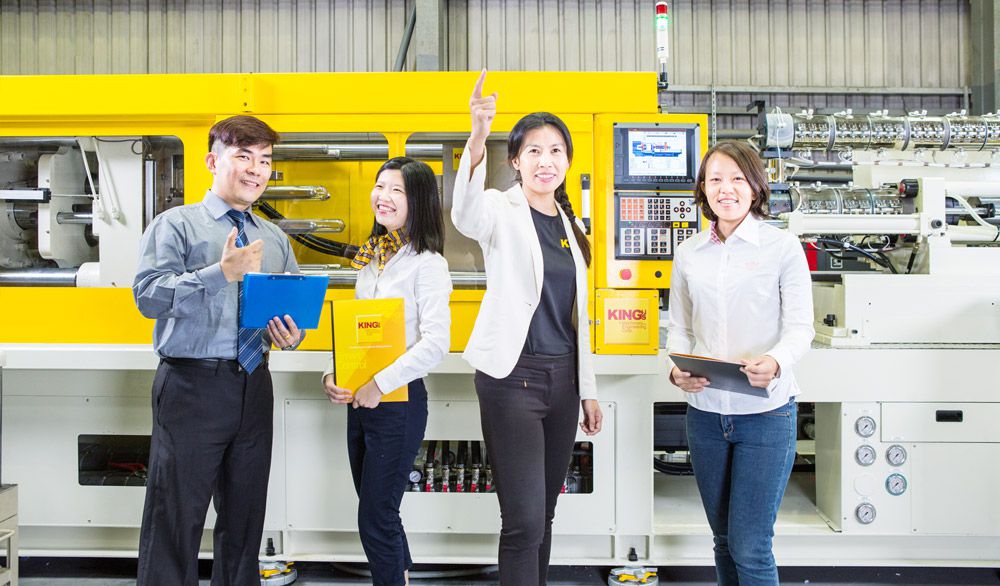 ABOUT KINGS
KING'S Solution Corp. was founded in the Spring of 2016 by KING'S Machinery & Engineering Corp., which has been dedicated in injection molding solutions for over 30 years. We have the experience of making over thousands of sets of customized injection molding machines with automation and turn-key solutions. Our team specializes in self-developed automation construction, pneumatic & hydraulic equipment, servo control, AOI, and IPC programming.
We are committed to manufacturing smart machines as the front line of Industry 4.0.
With reliable, sustainable innovative system application, KING'S Solution Corp is the Best partner to help customers stand out as the leader in the market.
KING'S

creates solutions with:
SMART CONTROL
GREEN DESIGN
KING'S

creates value for customers:
LEAN PRODUCTION
INDUSTRIAL 4.0
Lean

production

Lean principles are derived from the Japanese manufacturing industry. "To eliminate waste it first must be centered on making obvious what adds value by reducing everything else".

Our solution is from the machine-design to a project, helping our customer practically decries the following seven wastes (The Toyota Way):
Transport
Inventory
Motion
Waiting
Overproduction
Over Processing
Defects
KING'S provide customer a solution based approach aims to achieve JIT, by using a variety of techniques. The effort to achieve JIT exposes many quality problems that are hidden by buffer stocks; by forcing smooth flow of only value-adding steps, these problems become visible and must be dealt with explicitly.
Suitable With Automation
Turn-Key Solution
High Speed
Output Promotion
Customized
Energy Saving
Operator-friendly
Multi-station Working
Safety Design
For Operator
SMART

Factory

KING'S smart machine built in Smart control program and sensing system with 40-years molding experience. Need no human frequent setting and inspection, can drive and monitor the whole plant machines communicate with each other to produce by controller command, avoid human errors, achieve "Smart Factory for Industry 4.0".
E-Commerce
Sed ut perspiciatis unde omnis iste natus error sit voluptatem.
Global Sales
Through the borderless internet and through our customer service team, in recent years, we expanded and accomplished achievements to the new developing market.
Our customers are in the United States of America, Japan, India, Singapore, Malaysia, Philippines, Thailand, Colombia, Chile, Argentina, Russia, UAE, Australia and China. The production lines include power cord and connector, 3C product, glasses, shoe-material, PET preform, rubber and silicon processing industry.